Eco Spec Interior Paint
Interior Paint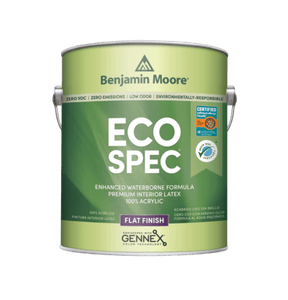 Eco Spec is our "greenest" interior premium paint. With zero VOCs and zero emissions, Eco Spec is the perfect choice when an environmentally responsible paint is required.
Rigorous testing and unwillingness to compromise on quality.
At our 80,000 sqft R&D facility in Flanders, New Jersey, more than 100 chemists, chemical engineers, technicians and support staff work tirelessly to ensure our formulations are best-in-class. Our rigorous internal testing ensures our products exceed the highest of environmental standards and regulations. Here are some of our quality promises:
Truly Zero VOCs Volatile organic compounds ("VOCs") are harmful chemicals when inhaled. That is why Eco Spec® is certified Zero VOC and free from harmful substances so that you and your loved ones can enjoy clean air and a peace of mind.

Gennex® Colour Technology Our exclusive Gennex® Colour Technology delivers gorgeous hues and unsurpassed durability to ensure the Benjamin Moore colour you love lasts for years and years. It's the "why" behind Benjamin Moore's renowned quality.

Quality Assurance Lab tests are continuously carried out to ensure the highest quality of our paints. Some of our tests include fade resistance, anti-mould and mildew properties, thickness of paint, ease of application, washability, and colour transfer.

Outdoor Testing Farm To ensure the durability of our paints, we test all our paints under extreme conditions for years against the sun, wind, rain and snow. We dedicate 175,000 sqft to get it wrong, because you deserve paint that is done right.

Environmental Sustainability Benjamin Moore is committed to developing environmentally responsible products. Through responsible sourcing, minimising of carbon footprint, energy and waste management, we are dedicated to reducing our impact on the environment.

Social Impact Efforts Through social outreach programs, we are committed to inspiring and transforming communities by supporting charitable programs and nonprofit organizations that provide stability, assist underserved populations, and preserve history for future generations.
Certified Asthma & Allergy Friendly Independently certified by The Asthma and Allergy Foundation of America and Allergy Standards Ltd, Eco Spec® is the perfect choice for your little ones or anyone living with asthma & allergies. Eco Spec® is scientifically tested to not contain or emit any properties that are likely to trigger symptoms.

Green Seal® Certified Green Seal's GS-11 leadership standard is the definitive benchmark for safer paints for human health and the environment. Only the safest, most responsible and most effective products can achieve the Green Seal certification.

Superb Washability & Easy Maintenance Eco Spec® offers a washable paint film, allowing you to clean off common household stains and dirt easily. Now you can retain its high-quality appearance much longer with minimal maintenance.

Mould & Mildew Resistant Eco Spec® contains anti-microbial additives that inhibit the growth of mould and mildew on the surface of the paint film. Here's to fresh, clean walls.

Virtually Odour-less Eco Spec® is certified zero VOCs and zero emission. Our greenest paint is virtually odour-less and the perfect choice for you or your little ones. Now you can embrace cleaner air and return to your space faster after painting.

Great Touch-up Qualities With an extended open time, its special formulation allows you to fix brush and roller marks plus other blemishes before they dry so you no longer have to worry about making mistakes.
Most Popular Colours
Check out some of our most popular colours, sorted by colour family.
Chantilly Lace
OC-65
White Heron
OC-57
White Dove
OC-17
Simply White
OC-117
Cloud White
OC-130
Navajo White
OC-95
Suitable For: New or previously painted interior walls and ceilings
Available Colors: Available in 3,500+ colours/p1>
Sheen (or Gloss): Flat, Eggshell
Cleanup: Soap and Water
Resin Type: Acrylic Latex
Recommended Use: Interior
VOC Level: 0.0
ben

our top selling paint

Eco Spec

our most eco-friendly paint

Aura

our most premium paint

SCUFF-X

our toughest paint
Choose this if you are looking for a fuss-free option with premium colour choices
Choose this if you are concerned about emissions for your little ones, or if you have family members with asthma and allergies
Choose this if you want a best-in-class performer with unparalleled colour richness & depth
Choose this if you want walls with extremely durability, which resists scuffing marks or requires minimal maintenance

Zero Volatile Organic Compounds

Zero Volatile Organic Compounds

Extremely Low Volatile Organic Compounds

Low Volatile Organic Compounds

Extremely Low

Virtually Odourless

Extremely Low

Low


Excellent coverage and hiding power


Excellent coverage and hiding power


Unparalleled colour depth and richness, exceptional hiding power


Excellent coverage and hiding power


Superb washability and easy maintenance


Superb washability and easy maintenance


Outstanding washability and easy maintenance


Outstanding washability and cutting-edge protection against scuffs, with minimal maintenance required
-

Anti Mould & Mildew Paint Film

Anti Mould & Mildew Paint Film

Anti Mould & Mildew Paint Film
-

CERTIFIED asthma & allergy friendly® by the AAFA

Proprietary Colour Lock® technology ensuring long-lasting colour and no colour rub-off

Patented scuff-resistant formula protects walls from the toughest scuff marks

Over 3,500 Colours Available

Over 3,500 Colours Available

Over 3,500 Colours Available

Over 3,500 Colours Available

Matte, Eggshell

Flat, Eggshell

Matte, Eggshell, Satin, Semi-Gloss

Matte, Eggshell

Ultra durable and resistant to blistering and peeling

Ultra durable and resistant to blistering and peeling

Ultra durable and resistant to blistering and peeling

Ultra durable and resistant to blistering and peeling

Benjamin Moore's Green Promise® designation is our company's assurance that this product exceeds rigorous environmental criteria while also delivering the premium levels of performance you expect from Benjamin Moore.

Benjamin Moore's Green Promise® designation is our company's assurance that this product exceeds rigorous environmental criteria while also delivering the premium levels of performance you expect from Benjamin Moore.

Benjamin Moore's Green Promise® designation is our company's assurance that this product exceeds rigorous environmental criteria while also delivering the premium levels of performance you expect from Benjamin Moore.
-