Waterborne Ceiling Paint
Interior Paint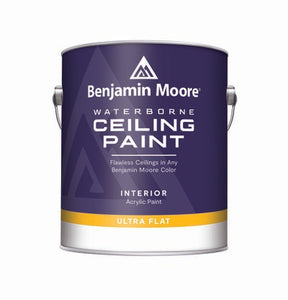 Waterborne Ceiling Paint is our zero-VOC paint, specially formulated for ceilings. The Ultra Flat finish hides common ceiling imperfections for a look that is virtually flawless.
Rigorous testing and unwillingness to compromise on quality.
At our 80,000 sqft R&D facility in Flanders, New Jersey, more than 100 chemists, chemical engineers, technicians and support staff work tirelessly to ensure our formulations are best-in-class. Our rigorous internal testing ensures our products exceed the highest of environmental standards and regulations. Here are some of our quality promises:
Truly Zero VOCs Volatile organic compounds ("VOCs") are harmful chemicals when inhaled. That is why our Waterborne Ceiling Paint is certified Zero VOC and free from harmful substances so that you and your loved ones can enjoy clean air and a peace of mind.

Gennex® Colour Technology Our exclusive Gennex® Colour Technology delivers gorgeous hues and unsurpassed durability to ensure the Benjamin Moore colour you love lasts for years and years. It's the "why" behind Benjamin Moore's renowned quality.

Quality Assurance Lab tests are continuously carried out to ensure the highest quality of our paints. Some of our tests include fade resistance, anti-mould and mildew properties, thickness of paint, ease of application, washability, and colour transfer.

Outdoor Testing Farm To ensure the durability of our paints, we test all our paints under extreme conditions for years against the sun, wind, rain and snow. We dedicate 175,000 sqft to get it wrong, because you deserve paint that is done right.

Environmental Sustainability Benjamin Moore is committed to developing environmentally responsible products. Through responsible sourcing, minimising of carbon footprint, energy and waste management, we are dedicated to reducing our impact on the environment.

Social Impact Efforts Through social outreach programs, we are committed to inspiring and transforming communities by supporting charitable programs and nonprofit organizations that provide stability, assist underserved populations, and preserve history for future generations.
Superior Hide Specially formulated for ceilings, our Waterborne Ceiling Paint minimises common ceiling imperfections and enhance your luxurious wall colours – allowing you to achieve more with less.

Ultra Flat Finish Flat finishes absorb light, reduce glare, and expertly conceal common surface imperfections for a flawless ceiling. That is why our Ceiling Paint is formulated to an ultra flat finish.

Mould & Mildew Resistant Our Waterborne Ceiling Paint contains anti-microbial additives that inhibit the growth of mould and mildew on the surface of the paint film. Especially important in our humid climate.

Formulated For Easy Application Our Waterborne Ceiling Paint is formulated for easy application with extended open time for a smoother finish on your ceiling.

Spatter-resistant Formula With spatter resistant properties, you can be sure of a cleaner painting process with the reduced likelihood of messy spatters or small paint droplets during application.

Great Touch-up Qualities With an extended open time, its special formulation allows you to fix brush and roller marks plus other blemishes before they dry so you no longer have to worry about making mistakes.
Most Popular Colours
Check out some of our most popular colours, sorted by colour family.
Chantilly Lace
OC-65
White Heron
OC-57
White Dove
OC-17
Simply White
OC-117
Cloud White
OC-130
Navajo White
OC-95
Suitable For: New or previously painted ceilings
Available Colors: Available in 3,500+ colours
Sheen (or Gloss): Ultra Flat
Cleanup: Soap and Water
Resin Type: Acrylic Latex
Recommended Use: Interior
VOC Level: 0.0